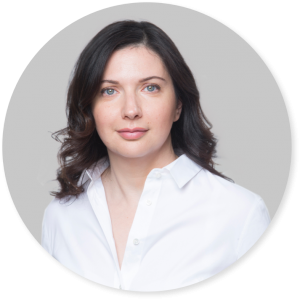 Irina Nevzlin is an Israeli entrepreneur and award-winning author of the book "The Impact of Identity – The Power of Knowing Who You Are". Since 2012 she has been the president of the Nadav Foundation and chairs the Board of Directors at ANU – the Museum of the Jewish People in Tel Aviv.
Born in Moscow, after completing her BA and MA in economics, Irina worked in the Moscow and London offices of a leading international communications agency and as an independent communications consultant for commercial entities and non-profit organizations in London.
In 2006, Irina immigrated to Israel, where that same year, she founded and managed Habogrim, for a better future, a not-for-profit organization supported by Nevzlin and Mionis families.
Irina served as the CEO of the Nadav Foundation from 2008 to 2012, and became its president after being appointed active Chair of the Board of Directors at the Museum of the Jewish People.
Irina recently announced the establishment of IMPROVATE, where she serves as founder and chair. IMPROVATE is a platform for the cooperation of two major leading forces – governments and technology companies. 
In 2017, Irina was chosen by The Jerusalem Post as one of the 50 most influential Jews in the world.
Words from the President
 Established by my father, Leonid Nevzlin, the Nadav Foundation is dedicated to strengthening Jewish identity and peoplehood. Although we came to Israel from Russia, a country with a communist background where there was almost no tradition of philanthropy, this is a value that has always been important to my father. Giving back to one's community is a part of my roots, my identity, and the Jewish tradition, going back centuries.
I firmly believe that living a meaningful and impactful life starts with learning where you came from and understanding who you are. It's all about your identity as an individual and as part of your people.
The Nadav Foundation seeks to create meaningful change in a number of ways. We feel strongly that philanthropy can influence and promote values that are essential when it is done with mindful intention and keen awareness. For me, this is one of the most profound ways to make a sustainable difference. I feel both privileged and blessed to be on the giving side.
The Nadav Foundation believes in empowering people and communities with roots and wings, and promotes these values through its programs.
The ability to initiate deep-rooted, long-term projects together with my father has a deep significance for me. It's something that inspires me and helps to shape the work of the entire organization. Roots to grow and wings to fly. It's a powerful combination that makes an impact.